Welcome to the Sleeper Public Library
Due to the Covid-19 virus we will be closed till further notice. We are taking this very seriously and wish to keep our patrons, ourselves and our families as healthy as possible. If you have materials that need to be returned we do have a drop box out front. If circumstances change we will post it here on Facebook and on WLEW radio. It is with heavy hearts that we even have to do this. But we love our community and our patrons and want to keep everyone healthy and safe. Thank you, Barb, Bonnie & Booker.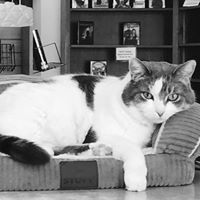 Booker's Library Life 
Hi Everyone! 
My name is Booker Theodorus Sleeper, I adopted the Library in October 2011.  I noticed that Miss Barb was missing a very vital piece in their library.  Me!   I have a very important job, I am the official greeter and I take my job very seriously.  If I am busy when you come in, I will be around shortly to make sure you feel welcomed here at the library.
Here are a few facts about myself:
1.  I like attention, but I also like naps.  I am cautious around gentlemen I haven't met before.
2.  Let me know if you see any mice, real or stuffed.  It's my job to keep them from getting out of control.
3.  I like to play but if I run away please don't chase me.  I will come back after I have had time to rest.
4.  If you are allergic to cats please tell Miss Bonnie or Miss Barbara and they will put me in the office while you are here. They work hard to keep my dander and hair under control. Unfortunately there are certain times of year where it is impossible to keep up with all my shedding, so I apologize if you end up taking some home with you.  There is no need to return it with your books.  
5.  A big thank you to everyone who donates funds for my care.  I LOVE to eat and the money helps to pay for my food, kitty litter and yearly vet visit and of course my stuffed mice too!  Miss Barbara cannot use Library funds for my care so there is a donation jar at the checkout counter.
Booker Theodorus Sleeper
Library Cat & Goodwill Ambassador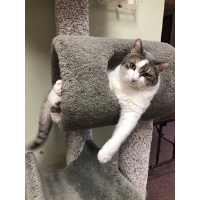 ---